Claudia Hachenberger, M.A.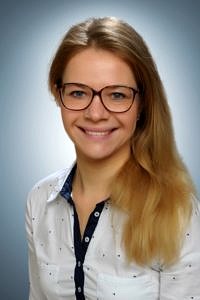 Organization:

Department of English and American Studies

Working group:

Lehrstuhl für Amerikanistik, insbesondere Literaturwissenschaft (Prof. Dr. Kley)

Phone number:

+49 9131 85-22032

Fax number:

+49 9131 85-23442

Email:

claudia.hachenberger@fau.de
Address:


Bismarckstr. 1

91054 Erlangen

Room B7A6

Office hours:

Office Hours (Winter Term)
Tue 11 am - 12 noon
Claudia Hachenberger´s dissertation project is titled "What if?" – Literary Articulations of Political Perspectives (and Alternatives) in the Americas since the 1970s"
Research Interests
Inter-American Studies
Hemispheric Studies
Latin American Literary Studies
Postcolonialism
Ecocriticism
CV
Lecturer at the Institute for Romance Studies (Spanish Literature Classes, April 2019 – October 2019)
Mentee in the ARIADNEphil-Program for young female academics (Department for Gender and Diversity, FAU Erlangen-Nürnberg) (April 2018 – October 2019)
Master of Arts (The Americas/Las Américas) (FAU Erlangen-Nürnberg, 2018)
Bachelor of Arts in Ibero-Romance and English and American Studies (FAU Erlangen-Nürnberg, 2016)
Scholarship for the Fulbright American Studies Summer Session at Humboldt University, Berlin (Summer 2015)
Memberships and Functions
Representative of the doctoral candidates of the Faculty of Humanities, Social Sciences, and Theology (Promovierendenkonvent, since October 2019)
Member of the German Association for American Studies (DGfA)
Papers and Lectures
"James Cañón's Tales from the Town of Widows (2007) – A Contemporary Feminist Utopia Based on the Discovery of Self-Determined Identity." Society of Latin American Studies (SLAS) 2019 Conference, University of Leicester, April 4-5, 2019
"Latino Otherness in the Netflix series Narcos." International Conference on Film Studies on Identity, Projection and the Other. London Centre of Interdisciplinary Research, University of London, February 9, 2019.
Publications
 Journal Articles
Courses
Introduction to (Spanish) Literary Studies
Ästhetik und gesellschaftskritische Potentiale des Realismo Mágico von den 1950ern bis heute (PS)