Class Enrollment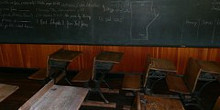 Before you may attend a class, you must enroll in it online. You can sign up for classes in cultural studies, literary studies, linguistics, and language pedagogy on StudOn (via Campo). For language classes, which are offered by the Language Centre, please see their information on class registration. Please note that you can only register for classes during the enrollment period.
Signing Up
You register for classes on StudOn—the information, which classes are eligible for which modules, however, is available on Campo. Once you have identified a class you want to sing up for on Campo, there should be a registration link leading you to the StudOn registration page for said class. For some courses—i.e. most Grundseminare, Aufbauseminare, and Lektüreseminare, we use StudOn's balancing mechanism (kombinierte Anmeldung): You cannot sign up for a specific class directly; instead you must select which of the offered classes you would prefer to take. Two weeks before the start of the semester, StudOn will assign all registered students according to their preferences. After that, students who still need to register for these courses may sign up directly where seats are still available.
To find out which modules/classes to enroll in at which point during your course of study, please refer to the information offered for your degree program on this website. For further information on how to navigate Campo, please see these guides for students. For further information on how to find classes on Campo or StudOn and how to register for them, please also see this guide (in German).
Enrollment Period
If not announced otherwise, enrollment for all classes starts on March 1, 7 pm for the summer term and on September 1, 7 pm for the winter term. Deadline for enrollment is always the Saturday after the first week of classes, 10 pm. Joining a class after this deadline is only possible, if the lecturer of the class registers you for it. Therefore, if you wish to sign up for a class after the enrollment period, you must contact the course lecturer directly. If you have decided not to attend a class after all, please disenroll from that class to free up spaces for other students.
Other Departments' Classes
Please note that other departments/institutions may start enrollment for their classes on a different date.