Prof. Dr. Heike Paul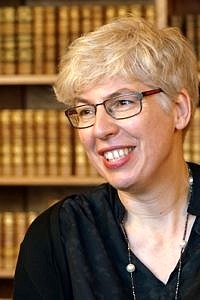 Organization:

Department of English and American Studies

Working group:

Chair of American Studies (Prof. Dr. Paul)

Phone number:

+49 9131 85-22437

Fax number:

+49 9131 85-26775

Email:

heike.paul@fau.de
Address:


Bismarckstr. 1

91054 Erlangen

Room C 403

Office hours:

Office Hours
by arrangement
Research Interests
American Myths
Feminist Studies and Gender Studies
African American and Afro-Canadian Studies
US-American Immigrant Literature and Postcolonial Studies
German Literature about the US and German-American Texts
Cold War Culture in Germany and the US
Popular Culture and Americanization, Reeducation after 1945
Cultural Mobility and Mobility Studies
Phenomena of Presence in American Culture and Literature
Tacit Knowledge and Public Feeling
Future/Knowledge
Research Projects
"Understanding Stewart O'Nan." Understanding Contemporary American Literature Series, book project (under contract with the University of South Carolina Press, Columbia)

"Reeducation Revisited: Transnationale und kulturvergleichende Perspektiven auf die Nachkriegszeit in den USA, Japan und Deutschland" (with Katharina Gerund and Fabian Schäfer, funded by the DFG 2018-2021)

Civil Sentimentalism and Public Feeling

European American Studies, edited volume 
Upcoming Activities
Opening Lecture "Fremder Freund: Wie die USA sich selbst erzählen" at the VHS München, Black Box, Gasteig, October 9, 2018.
"Staatsbürgersentimentalismus, American Style," Kantorowicz-Lecture 2018 at the Johann-Wolfgang Goethe University, Frankfurt/M, October 31, 2018.
Keynote at the 45th Austrian Association for American Studies Conference "American Im/Mobilities", November 16, 2018, Vienna.
Education
Habilitation in American Studies, Leipzig University (2004)
Dr. phil. in American Studies, Leipzig University (1998, summa cum laude)
M.A. in American Studies, English Studies, and Political Science, Goethe-University Frankfurt (1994)
Employment
2004-present: chair of American Studies, FAU Erlangen-Nürnberg
2017: chair of American Literary Studies, Leipzig University (offer rejected)
2003: professor of American Studies, Humboldt-University Berlin (offer rejected)
1997-2004: assistant professor at the American Studies Institute, Leipzig University
1994-1997: lecturer at the American Studies Institute, Leipzig University
1992-1994: tutor (Women's Studies) at the Institute for English and American Studies, Johann Wolfgang Goethe University Frankfurt/Main
1990/91: teaching assistant (German Studies) at the University of Washington, Seattle
Fellowships, Grants & Awards
2018: Gottfried Wilhelm Leibniz Prize
2018: Fellowship of the International Forum for US studies (IFUSS) at the University of Illinois, Urbana-Champaign
2014, 2017: Harris Distinguished Professorship, Dartmouth College
2012-2018: DFG-funded Research Training Group 1718 "Presence and Tacit Knowledge," spokesperson, FAU Erlangen-Nürnberg
2009, 2011, 2015: Funding by the German Academic Exchange Service for Summer School Program "Transatlantic American Studies" at the Bavarian American Academy
2010: Conference and publication funding by the Vinzl Foundation, the American Consulate in Munich, the German-American Institute Nuremberg, and the Unibund e.V. for "German-American Encounters after 1945" (organized with Katharina Gerund)
2009: Conference and publication funding by the Thyssen Foundation for "Pirates, Drifters, Fugitives: Figures of Mobility in the US and Beyond" (organized/edited with Alexandra Ganser and Katharina Gerund)
2008, 2010: Faculty Enrichment Grant (FEG) and Faculty Research Grant (FRG), research fellow at the University of Toronto, York University, and Chatham Historical Society
2005-2010: DFG-funded Research Training Group "Cultural Hermeneutics Difference and Transdifference," deputy spokesperson (2nd funding phase), FAU Erlangen-Nürnberg
2003-2004: Fellowship at the Institute for Advanced Studies (Wissenschaftskolleg), Berlin
1999: DAAD one-year postdoctoral fellowship, Visiting Fellow at Harvard University
1995, 1998: Travel and Research Grants by the German Academic Exchange Service (DAAD) and the German Research Foundation (DFG)
1997: Library Fellowship at the John F. Kennedy Institute, Berlin
1995-1997: Doctoral Fellowship at the DFG-funded Research Training Group "Gender Difference and Literature" at LMU Munich
1990-1991: Fellowship for Interdisciplinary Graduate Studies, University of Washington, Seattle (German Academic Exchange Service)
Service to the Profession
Board member (since 2007) and director (since 2017) of the Bavarian American Academy (BAA) in Munich
Vice-President of the German Association for American Studies (2014-2017) and co-editor of its monograph series (since 2014)
Teacher training seminars (on a regular basis) in Munich, Nuremberg, Dillingen, Würzburg, Bamberg, and Berlin on "Myths that Made America," "Television Series," "National Holidays in Popular Culture," "The American West", "Constructions of Masculinity," "Contemporary Postcolonial Fiction," "Post-Racial America?," etc.,
Board member of the Support Association "Family and Science" at FAU, since 2013
Mentoring for Women in the Academy (Ariadne-Program FAU, Christine De Pizan Program, Mainz, and others), since 2012
Reviewer (on a regular basis) for the German Research Foundation, the German Academic Exchange Service, Fulbright, and the Alexander v- Humboldt-Stiftung
Member of the evaluation group for English and American Studies of the German Council of Science and Humanities, 2010-2013
Board member of the German-American Institute (DAI) and its support association, since 2006
Contact/Liaison for the Fulbright Commission, since 2005
Peer reviewer for Amerikastudien/American Studies, 2005-2011
Publications
Authored Books
Journal Articles
Book Contributions
Edited Volumes
Teaching
The Sixties in Retrospect: Civil Rights, the Women's Movement and the New Left
Women's Writing and the American Dream
National Identity and Cultural Memory in American Film
Film, Soap, and Gender
The Literatures of Asian-America
Nathaniel Hawthorne
Moby Dick: Text and Contexts
Growing Up
Literature of the Reconstruction Era
James Baldwin: Novelist, Essayist, Critic
Immigrant Fiction
Literarische Neuerscheinungen
Campus Novels: Der Literaturwissenschaftler als Romanheld
Nobel Prize Winners in American Literature
Benjamin Franklin and American Beginnings
How to Make a Long Story Short: Readings in an American Genre
Modernism in Black and White
Transatlantic Love
Writing and Re-Writing Uncle Tom's Cabin
American Women Poets
Detroit: Film, Fiction, Music of an American City
Wissenschaftliche Neuerscheinungen
Captivity Narratives Past and Present
"Unspeakable Things Spoken:" Representations of Slavery in Film and Fiction
The Historical Imagination
Jewish American Literature
Gender, Memory and the Vietnam War
Margaret Atwood
Chick Lit in Transatlantic Perspective (with Doris Feldmann)
American Popular Culture in the US and in Germany
More than Aloha: Hawaii and Euro-American Discourses of Exoticism
Canadian Crimes
Amerikanisierung und Reeducation nach 1945 in Nürnberg und Berlin
American Beginnings / American Foundational Mythology
Literary and Cultural Studies of the Americas (with Andrea Pagni)
The History, Culture, and Literature of Slavery in/and Canada
Amerikanische Fernsehserien (with Christoph Ernst)
Conversion, Assimilation, Reeducation (with Alexandra Ganser)
Books That Changed America
The American Civil War (with Herbert Sirois)
Consumer Cultures in America
Contemporary Canadian Fiction
Präsenzphänomene in der amerikanischen Kultur und Literatur
Mythos Cowboy (with Tanja Roppelt)
Cold War Culture & Politics (with Herbert Sirois)
Transnational American Studies (with Alexandra Ganser)
From the Boston Tea Party to the Tea Party Movement (with Herbert Sirois)
Rural America: History, Culture, and Literature
Der Vietnamkrieg und die amerikanische Gesellschaft (with Herbert Sirois)
19th-Century Popular Culture in Britain and the US (with Doris Feldmann)
The American West
"The Age of Reform:" Progressivism in America (with Herbert Sirois)
Critical Mixed-Race Studies (with Cedric Essi)
American Prisons (with Herbert Sirois)
Public Feeling in America
Contemporary Postcolonial Fiction
"Wie aus Feinden Freunde wurden?": Die deutsch-amerikanischen Beziehungen seit 1945 im Kontext von Reeducation, Kulturpolitik und Amerikanisierung (with Herbert Sirois)
Postracial America?
Der "affective turn" in den Kultur- und Sozialwissenschaften (with Frank Adloff)
Washington, D.C. (with Herbert Sirois)
Empire Studies (with Herbert Sirois)
From the KKK to the Alt-Right: White Supremacy in American Culture (with Katharina Gerund)