Aptitude Test
Due to the COVID-19 pandemic the aptitude test will be sudpended once again for the winter semester 2021/22. If you want to self-check your language proficiency, the FAU's Language Centre offers some advice on how to do this here.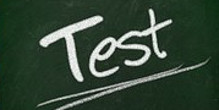 All applicants to the B.A. and teacher training degree programs must successfully pass an aptitude test (Eignungsfeststellungsverfahren) in order to enroll in these programs. This is to ensure that language proficiency in English is at a level which will allow them to study successfully. Please take note of the following points:
The overall mark in the aptitude test is based on your mark in the German Abitur or some acknowledged equivalent to this from other countries and the result of a test which is conducted here at the FAU.
The test is organized by our Language Centre (Sprachenzentrum). All details about the test as well as enrolment for the test can be found on the Language Centre's website here.
Under certain exceptional conditions, applicants can be exempted from the aptitude test, if their proficiency in English is beyond reasonable doubt. This is true, for example, for applicants with a native English background or for advanced students in higher semesters who change to Erlangen. Generally, however, exemptions are treated very restrictively. Good marks in English or an exchange year in an English-speaking country are not accepted as sufficient reasons for an exemption. If you want to apply for an exemption, please contact

Dr.

Michael

Klotz

.
The statutes for the aptitude test (Satzung des Eignungsfeststellungsverfahrens) can be found here.