Kalamazoo College
University Partner Exchange Program with Kalamazoo College
As part of FAU's Partner Exchange Program with Kalamazoo College, the Institute for English and American Studies can nominate one student each year to spend an academic year at Kalamazoo College (Michigan, USA).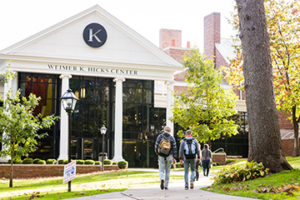 The fellowship awarded by Kalamazoo College covers tuition, room (to be shared with another student), 15-meal premium plan, and the student activity fee. It requires the student to serve as teaching assistant in the German department. Students who would like to apply also need to fulfill the following criteria:
must be in their 2nd (or 3rd) year of their program
must have at least a 'B' average
must be willing to live in on-campus student housing (students should be unmarried and should not be over the age of 24 during their time in Kalamazoo)
Applications for the academic year 2024/2025 are due on December 12, 2023.
Please send the following documents as one pdf-file to Dr. Katharina Gerund:
CV
letter of motivation
letter of recommendation
transcript of records
language certificate
certificate of enrollment
If you are interested in applying or have any questions about the program, please contact Dr. Isabel Kalous!
For further information, please see: https://cip.kzoo.edu/international-students/prospective-students/exchange/ and https://www.kzoo.edu/about/